New MundoGEO exhibition dedicated to electric vertical takeoff and landing aircraft, will discuss the entire ecosystem that is developing around eVTOLs. Event will be held between May 21 and 23, 2024, in São Paulo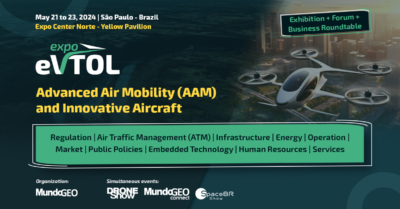 Expo eVTOL, an exhibition in Brazil dedicated to electric vertical take-off and landing aircraft, will highlight in its program the concept of Advanced Air Mobility (AAM), which goes far beyond eVTOLs. The event is organized by MundoGEO and will be held between May 21 and 23, 2024 at Expo Center Norte – Yellow Pavilion, in São Paulo, in parallel to DroneShow Robotics, SpaceBR Show and MundoGEO Connect.
According to the International Civil Aviation Organization (ICAO), Advanced Air Mobility is a form of aviation that operates in a highly automated and collaborative environment, launching a range of innovative technologies in air traffic management, digital ecosystems and sustainability, as well as such as new aircraft designs, means of communication and types of infrastructure.
AAM services, which include passenger and cargo transport, as well as emergency response and security, will not only take place in urban environment. In addition, they have the potential to improve the accessibility, sustainability and mobility of intermodal transport, as well as the quality of the environment, life, safety and security of citizens.
It is this ecosystem that will be at the center of Expo eVTOL. An ecosystem that has Brazil as one of the main protagonists, largely due to Eve Air Mobility, a company from the Embraer group that is developing an eVTOL and urban air traffic management solutions. The company currently has the largest backlog in the world — 2,850 units —, including strong names such as United Airlines, Republic Airways, SkyWest, Blade Aviation, BAE Systems and Bristow, in addition to the Brazilian companies Avantto, Flapper, FlyBis, Helisul and Voar.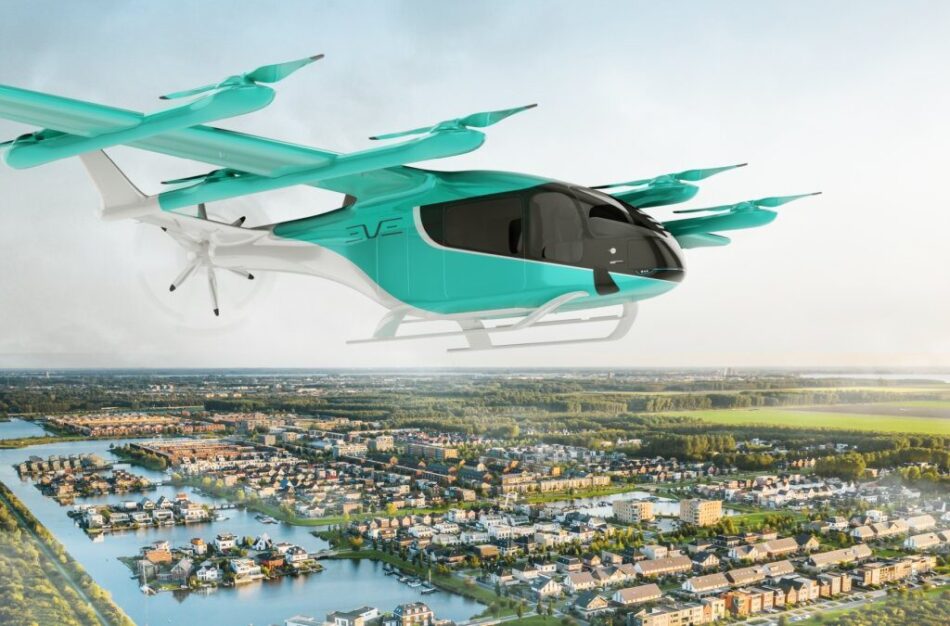 Brazil also stands out among future operators of these innovative aircraft. In addition to Eve's customers, the country has the participation of Azul and Gol, which ordered eVTOLs from Lilium and Vertical Aerospace, respectively. Only from publicly disclosed letters of intent, Brazil could reach 780 aircraft, only behind United States and China. Not to mention other initiatives, such as the Chinese EHang, which is aligning partnerships with city halls.
To scale this market, the main eVTOL developers already have more than 10,000 orders. These companies received $8.4 billion for investment in their programs, according to SMG Consulting. This is not to mention companies that are using their own resources, such as giants in the airline industry, such as Airbus and Textron, and even in the automobile segment, including Honda and Volkswagen.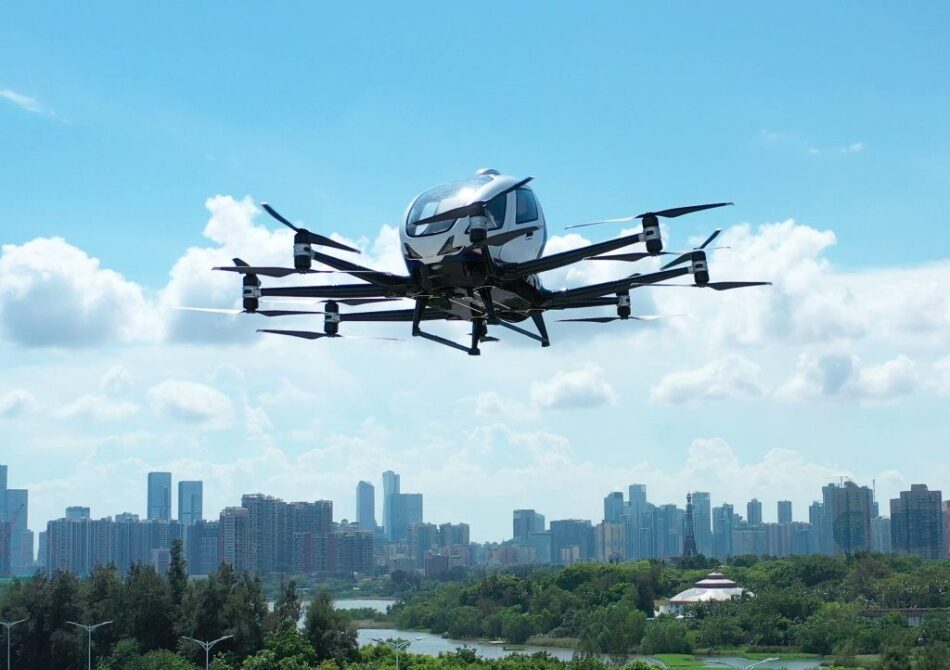 Expo eVTOL will bring together some of these important players in the Advanced Air Mobility market at the exhibition and in the forum's programming, with debates on various topics within this ecosystem. "We hope to have some aircraft at the fair, along with other companies that are part of the Advanced Air Mobility ecosystem. We are very excited about the growth potential of this market in the coming years and we hope that our exhibition can fulfill the purpose of integrating the various segments that form this sector", comments the CEO of MundoGEO, Emerson Granemann.
This year, MundoGEO, which was recently acquired by the Italian Exhibition Group (IEG), organized the 1st eVTOL Forum within the DroneShow Robotics, and obtained a great response from the public, proving that there was room to expand the discussions. For this reason, the Expo eVTOL forum will be more comprehensive, covering eight main themes and their ramifications:
1) Regulation
Challenges for the certification of eVTOLs in Brazil
Contribution of Drones to the regulatory framework of eVTOLs
Experiences and international cooperation in eVTOLS certification – FAA, EASA, CAA-UK
Legal aspects that impact the certification of disruptive aircraft
2) Air Traffic Management
Challenges of inserting eVTOLs into urban airspace
Development of ground technology and software for air traffic control
How to handle eVTOLs at the same time as helicopters, planes and drones (UTM)
3) Infrastructure
Definition of vertiport standards in Brazil and foreigner experiences
Challenges in the construction of vertiports in populated areas
Construction and integration of vertiports to existing airports
Integration of eVTOLs to the land mobility system of cities
4) Energy and sustainability
Advances in electrification for eVTOLs
Importance of charging structure for the success of eVTOLs
eVTOLs as drivers for the decarbonization of aviation
Alternative fuels for hybrid aerial vehicles
5) Embedded technology
Challenges of manufacturing a disruptive aircraft with new technologies
Use of composite and lighter materials in the manufacture of eVTOLs
Challenges of transition from manned flight to autonomous flight
6) Operation and market
Integration of eVTOLs into the route network of airlines in Brazil
Definition of the priority markets of action. Which cities and routes?
Current status of the Advanced Air Mobility market in the world and projections for the coming years
eVTOLs as a logistics tool for cargo delivery
Use of eVTOLs for Emergency Services (EMS) and Security
7) Human resources
Training of new professionals to meet the demand of the production chain and MRO of eVTOLs
Training of pilots to serve Advanced Air Mobility
Use of Full Flight Simulators to train eVTOL pilots
Safety: manned aviation experiences in eVTOL market
8) Society
How to cultivate public trust in eVTOLs
How companies and government should work to introduce eVTOLs to society
Involvement of local government in defining rules and benefits to society